Testimonials
"I'm completely blown away by searchitup! I'm loving the ability to learn what my children are most interested in learning about both at home and at school"

What Parents are saying
Sanjay A.
Parent
searchitup! makes searching fun, safe and ad free!
Safe, Ad Free & Private
We make searching fun! Children earn searchitup! coins as they search, that give the ability to add further customizations and search interfaces. searchitup! coins make it so much fun to learn.
Fun!
Parents get real-time insights and control with searchitup!

A visual snapshot into your child's curiosities, interests and passions. More than just Internet history, this steps into your child's mind in a fun and interactive way.

Parents monitor and support their child's learning using the tools in their Parent account with the added ability to create alerts and view reporting and customize autocomplete.
Family Collaboration
We are taking search to new levels of innovation with a focus on children.

searchitup! offers the ability to teach children the importance of objectivity and helps change the way your kids think!
Innovative
Imagine a search engine dedicated to children learning through innovative ways of researching the Internet in an ad free, safe and private manner. Built from the ground up focused on children and families.
Change The Way Your
Children Think
searchitup! is a specialized search engine for kids…
parents…
families.
searchitup! is a revolutionary new search engine designed specifically for children and their families. We have even developed Pi, the world's first child friendly voice search assistant!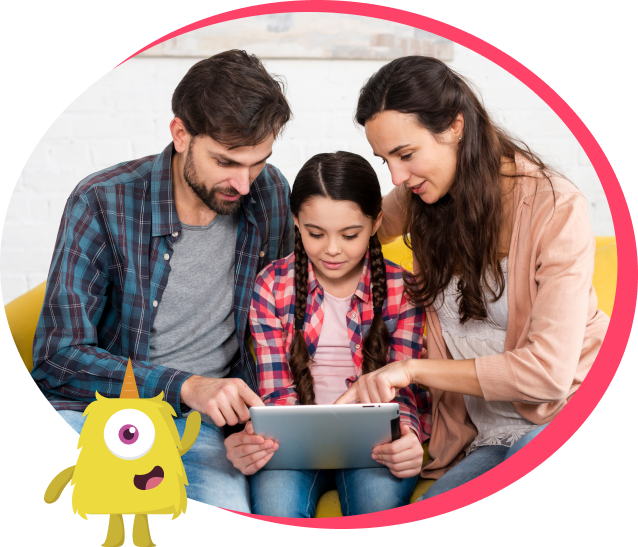 How It Works
Ad Free!
No advertising - You'll never see an ad on searchitup!
Private
We take privacy seriously - searchitup! will never sell or disclose your child's and family's data.
Safety Alerts
searchitup! alerts parents for searches that may indicate potential self-harm, depression, bullying, and violence.
Kid Friendly
Elimination of explicit content and search results for web, images, video and news search results. Additionally, built-in parental controls to provide even greater granular control over what children have access to.
Fun!
Earn coins for searching!
Family members earn and collect searchbit and searchbyte coins as they search.
Kids can use searchbit and searchbyte coins to enhance their search experience with fun search interfaces and games that make searching that much more fun, thought provoking and interactive.
Who in your family will make it to the leaderboard!?
Family Leaderboard!
Have fun with your family. Earn coins for searching. Who'll make it to the top? Kids vs. Parents!!
Whimsical Sounds
Experience sounds as you search and interact with the various search and result interfaces.
Games
Fun search games like a search button that flips and buzzes. A search button that stretches like a rubber band, changes color or bounces. What fun!
Family Collaboration
MindCloud
A visual snapshot into your child's curiosities, interests and passions. More than just Internet history, this steps into your child's mind in a fun and interactive way.
Inspirational insights
Analytics for Parents & users at your fingertips. See at a glance, how much time, the topics and websites, what your child has searched for, the frequency, timing and the type of search. Foster your child's learning and pursue their interests & passions with what you glean from these insights.
Searchlaborate
Children do a lot of learning when in groups - both with peers and with their families. With searchlaborate, families can choose topics they are interested in and research together (i.e. Recipes We Want to Try for Dinner, Itineraries for Our Summer Vacation etc.). As families search, they collaborate with other family members to share what they have found. Via an innovative and collaborative search interface, family members search, bookmark, add citations based on the topic and their shared results form the basis for their findings.
Family Autocomplete
Have some family fun and add terms to your very own family's autocomplete. Commonly added terms are school names, places of parent workplaces, popular restaurants and sports venues.
Topicals
Topicials are a core feature for Searchitup! In short, Topicals are "mini" search engines created by any family member, based on any topic. They are a collection of sites to ensure search results are relevant and appropriate.
Family Bookmarking
Everyone can easily organize and share links to great sites with the rest of the family.
Classroom Connect
Engage with your child's classroom and see what Activities your child completes in class and what feedback they obtain from their teacher.
Search Innovation
Search Kabooms! And Search Swipes!
Keyword shortcuts - for example, searching for "school" redirects them to the child's school website. A Swipe automatically searches when certain terms are search for.
Site Booters & Site Blockers
Choose what sites to promote to the top of the results and what sites get completely blocked.
Blocked Keywords
Customize what keywords are completely blocked from the search results for your family.
Personalized Autocomplete
Allows children to create their very own autocomplete with their favorite keywords or phrases they frequently search for.
Objectivity Wizard
Objectivity Wizard – Based on age , Objectivity Wizard teaches children to think about the source of information and helps them to better validate fact from fiction. Children are presented with Objectivity Wizard cards to help question, verify and validate the source of information contained on a particular website or document.

Objectivity Wizard cards are presented to children as they see search results and each time they make a citation to a given website, document or link. Objectivity cards teach children to think about the sources they are citing, the underlying motivations of the website i.e. advertising vs. education, authenticity, credibility, & verifying the credentials of the author.
Sign Up for exclusive access
Frequently Asked Questions
We are empowering children and families with a new way to search and learn about the world.
Why should I choose searchitup! ?
By default, our search results are child safe. Also rest easy knowing that we send safety alerts to parents. Parents also have many options to customize the right level of search safety for their family.
How does searchitup! keep my child safe?
We make it easy to search and learn together with our MindCloud and Searchlaborate features. We have games too to keep it fun!
Does searchitup! foster family collaboration?
Plans & Pricing
At Home for Parents
At School for Teachers
For Schools and Districts
1 child + 1 parent/month
teacher/month
school/year












Safe searching
Safety Alerts
Ad free
Private
MindCloud
Inspirational Insights
Classroom Connect
Keyword Safety Alerts
Searchlaborate
Topicals
Bookmarking









Interactive
games
Whimsical sounds
Earn coins
























Citation Wizard
Personalized Autocomplete
Family Autocomplete
Block sites list
Allow sites list
Search Kabooms!
Site Boosters!
Search type controls
















EDUCATIONAL – IN THE CLASSROOM
Classroom Connect
Activities
Search based quizzes
Topicals
Searchlaborate
Objectivity Wizard
Citation Wizard
Parent Engagement Reports